Content note: animated gifs
Reading this macro made me think of the character Sir Didymus from Jim Henson's Labyrinth.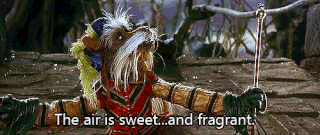 You know, the aggressively confident guardian of unspecified values that he'd die to defend?
The chivalrous gentleman who overcompensates for his diminutive stature by constantly asserting his dominance?
The scrappy li'l fella with no qualms about starting any beef with anyone at any time?
Yep, that's the one.
This post is for that hairy little Muppet.
If you're not familiar with the story of Labyrinth, it's not entirely unlike The Wizard of Oz.
A plucky young lady goes on a magical journey of self-discovery, along the way gathering various supportive companions who are actually personifications of her inner struggles and desires.
In Oz, Dorothy's motley trio perceive themselves as cowardly, foolish, and heartless, but later reveal themselves to be respectively brave, clever, and compassionate.
Henson's then-contemporary fairy tale is a bit darker and a bit more introspective.
Whether it was intentional or not, heroine Sarah's companions appear to be a trio of maladaptive coping mechanisms.
Even at their worst, Sarah treats her neurotic friends with empathy and understanding, and she stays patient with them when they lean on problematic behaviors under pressure.
Before it's all said and done, our teenage protagonist needs a one-on-one sexually-charged power struggle with David Bowie*, but we'll keep the focus on her little band of misfits. Each of them is able to achieve some kind of closure in the prelude to the big dance party at the end.
Hoggle represents self-doubt. He doesn't think he has any real value, so his vulnerable and genuine offer to help if he's needed – with the implicit understanding that he's worth being needed, and that he can show up for his friends – demonstrates considerable growth.
Ludo is a people-pleaser. He gets his sense of self-worth from being helpful to others, so it's important for him to be able to hang back and not take on the burden of Sarah's conflict. (His character is actually far less problematic than the other two, but I shoehorned him into this analysis for consistency. Also, wouldn't it make sense for a people-pleaser to fade into the background in the presence of more assertive personalities?)
And Sir Didymus?
He's pure ego, and he learns to back the fuck off.
Didymus would never hesitate to swoop in to save the day. But in his final scene, he recognizes that he can't. It's more heroic for him to stand aside, and he does this admirably (if regretfully).
So.
Again, Didymus, this post is for you.
(Please note that the therapist voice below is used for comedic effect, and so some instances that sound condescending in this ostensibly entertaining parody would not be appropriate in real life.)
I can tell how sincere you are when you say, "Never let a person get comfortable disrespecting you." You have always upheld this value tenaciously, haven't you?
I wonder what might happen, though, if we reconsidered some of your language choices.
I'd like to know whether you define "disrespect" as an inner feeling that you have, like a sense of a lack of deference, or if you define "disrespect" as a behavior or action that someone else does, like looking at you the wrong way.
If "disrespecting you" is an action, then I understand how you might feel compelled to reciprocate with action.
One available action is certainly screaming wildly and charging at your antagonists with a lance.
You've made a lot of points that way, haven't you?
I wonder if you might have some concerns about porous boundaries, because those can turn into poor boundaries, and then everyone feels like they can just traipse through your bog willy-nilly.
So let's agree that it's reasonable to be protective of your space.
But I'd like to propose another framing. If you never let anyone get comfortable making mistakes around you, they're never going to get comfortable around you, period. Because everyone makes mistakes.
And if people feel defensive because they're afraid they might get attacked, their behavior might be more likely to come across as disrespectful to you.
So maybe we can be open to the possibility that everyone isn't always trying to disrespect you.
I know you're brave enough to handle that.
If by "disrespecting you," you simply mean a feeling that someone might have about you (like, say, Ambrosius), maybe we can examine the difference between what you can control and what you can't.
I'm afraid that you can't control whether people feel respect for you or not.
That's hard, fuzzy buddy.
That isn't because you did anything wrong or didn't try hard enough. I can see how hard you're always trying, every day.
Your own behavior does play a role in others' perception of you, but their reactions to your behavior are affected by a lot of things that you simply can't fight off.
I want to let you know that you're so strong for sitting with your discomfort without yelling or barking. I heard a little growl, and that's okay, too.
Before we finish today, I'd like to consider your idea that offering second chances is a sign of weakness, and that people are bound to disrespect you and take advantage of you if you forgive them.
Can we really examine the implications of that?
"They get comfortable depending on your forgiveness."
Is comfort really so bad, Didymus?
Should everyone be expected to agonize over the prospect of your displeasure?
I remember how you went after sweet old Ludo just as hard as you went after that horde of goblins. But all Ludo was trying to do was cross a bridge to help his friend, while the goblins were really planning to hurt you.
I'd say that I understand why Ludo and Sarah might have been unhappy with you. And I also think that you appreciated having their forgiveness.
Have you been hurt by someone before, Didymus?
You don't have to answer that right now. Just think about it when you can.
I know how much you love being a good guy, I really do.
But what's "good" in some situations isn't necessarily always "good."
And what's toxic in some situations isn't necessarily always toxic.
I mean, you literally live in a toxic swamp. And you love it, and that's okay.
I understand how it can be comforting to have control over the definition of whose behavior is really toxic, so you be fully confident in asserting your own authority and telling them that their chances are up.
Sometimes people have ignored your firmly established boundaries. And some people might expect an unreasonable amount of accommodation from you.
But we still have consider another very challenging possibility here, Diddy: your behavior can be toxic, too.
Be honest: do you think you give Ambrosius enough space to express his feelings?
Does he really have to be afraid in order for you to feel secure?
You don't have answer that out loud, either.
That's a lot of big questions for one day. You've been so patient and so strong.
It's okay if you need to fight off a few goblins when you get home.
And it might be even more brave to remember to say "thank you" to your friends who gave you a second chance.
*Please let this be what happens to us all when we die