Trigger Warning: Sexual assault and abuse.
Content Note: Animated gifs.
NO.
NO.
NO.
NO.
NO.
You don't need to invalidate your partner's (or your own) history of trauma in order for good times to also exist.
Three guesses about who wrote this:
A person who once caused another person to break down and just wants them to get over it, already.
A person who wants to be the person who makes someone else smile again, once they just get over that time they were broken, already.
Brett Kavanaugh #topicalhumor2018# #ioriginallywrotethisin2018 #thatfeelslike20yearsago #abortionishealthcare #nomeansno
The categories of "having been hurt" and "being able to smile" are not mutually exclusive.
Why are they being presented as if they are? Let's explore!
I get the sense that the author was going for a chiasmus-type thing, and failed, but they wanted the basic infrastructure to uphold the illusion of forethought.
I could probably find a more precise rhetorical term for this setup than "failed chiasmus," and maybe some day I will learn it, and then update this post. Hold your breath for that. #itsbeenthreeyearsandistilldidntdoit
At any rate, let's see how the basic point holds up without the syntactic support of not-quite-chiasmus.
"The identity of who hurt you and how they did it isn't important, as long as you don't forget that there are also people who make you happy!"
"It's important to remember to smile after you've been hurt by abuse, and also that you remember to give humble li'l me sufficient credit for making you do it. Smile, that is!"
"The experiences that shaped you aren't as important to me as the warm, fuzzy feelings I want you to be having right now!"
"Happy is better than sad!"
We'll just table cisheteronormativity for now. (Which, I know, is basically all day every day in so many contexts, but this blog post isn't gonna fix all those. If I find compelling evidence that this image and message were created by queer folx for queer folx, I'll certainly update some of my commentary.)
I just doubt that the creators of this image were progressive or intentionally transgressive with respect to gender, sexuality, or intimate relationships. I think we're safe to read this as a stylized rendering of a passionate cis-man-to-cis-lady embrace and also possibly they are getting married.
If this was a photo in this couple's scrapbook, I would interpret the big ol' heart sticker covering their faces as an effort to mask obvious tension, rather than as a cheerful decoration.
That dude just gives me bad vibes. I can't read his body language as unaggressive.
He's leaning down and leaning in. His hug looks restraining, and she kind of looks like she's pushing back on his chest.
Just me?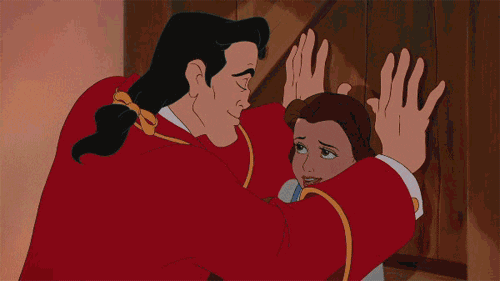 On a side note, when I looked for animated gifs à la Pepé le Pew, I was surprised at the frequency of this same posturing: taller man on left, leaning down, arms constraining if not restraining, lady looking up and backing away.
Ew.
Anyway, it turns out that it can matter that you were hurt and that you are ready to smile at the same damn time. The latter doesn't cancel out the former.
It's entirely reasonable to be suspicious of people who are aggressively insistent that you have to "get over it, already."
And it's entirely reasonable to remember that you can take the credit for learning to smile again all for yourself.